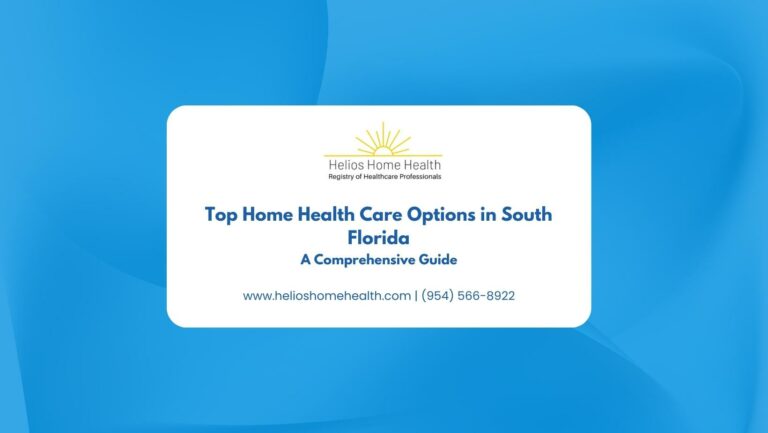 Top Home Health Care Options in South Florida: A Comprehensive Guide
The Sunshine State, especially South Florida, has become a haven for retirees and older adults. With its warm climate and vibrant communities, it's no surprise that the demand for home health care has surged. If you or a loved one is considering home-based care, understanding the Home Health Care Options in South Florida is pivotal.
The Spectrum of Home Health Care
In South Florida, home health care isn't a one-size-fits-all solution. There's a diverse range of services tailored to individual needs.
Skilled Nursing: For those requiring regular medical attention, skilled nurses can administer treatments, medications, and more, right at home.

Personal Care Services: Daily tasks, from bathing to meal preparation, are covered under this umbrella.

Companion Care: Beyond physical health, emotional well-being is crucial. Companions offer conversation, engage in activities, and provide company.

Therapy Services: Physical, occupational, or speech therapies can be conducted in the familiar environment of one's home.

Memory Care: Specialized care for individuals with Alzheimer's or other dementias ensures their safety and comfort.
Choosing the Right Fit
Assess Needs: Before diving into the options, it's essential to gauge the kind of care required.

Research and Recommendations: Word of mouth and thorough research can lead to trusted agencies.

Cost Considerations: Understanding insurance coverage and out-of-pocket expenses is crucial.
Why Home Health Care?
South Florida seniors choose home health care for its personalized approach, comfort, and cost-effectiveness. Moreover, being in a familiar environment can speed up recovery and improve overall well-being.
For those considering care options in the region, our guide on managed care in South Florida offers further insights to make an informed decision.